Dedicated to Professional RV Repair in Plano
If it's time for a fresh upgrade or some routine maintenance on your loveable RV, look to Coach Specialists for expert RV repair in Plano, TX. This is where we thrive. Not only do we offer a full range of RV repair services (everything from water damage to collision repair) but we can spruce up your home-on-wheels and deliver it to you when we're done. We have a paint booth large enough to paint any length motor coach, OEM equipment just for RV roof repairs, and space dedicated to custom RV upgrades.
The Coach Specialists team makes RV repairs and renovations look easy. Our team of certified technicians is educated and trained regularly to keep the team up to date with industry specifics. Don't give it a second thought; if you need some work done, send us your RV. Here's what sets us apart:
1. Customer Service
Customer service is a top priority at Coach Specialists. We keep you up to date (via phone, email or text) with all repairs and renovations, and we have a reputation for being a friendly and informative team here in Plano, TX.
2. Timeous Delivery
Our technicians' work is not only excellent but efficient too. We understand that you need to get back on the road as soon as possible.
3. Guaranteed Satisfaction
Our experienced team continuously delivers, you won't be disappointed. Guaranteed.
Welcome to our Plano Facility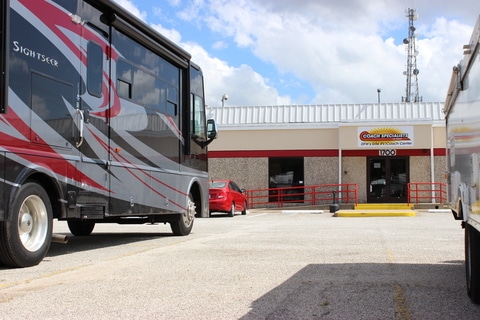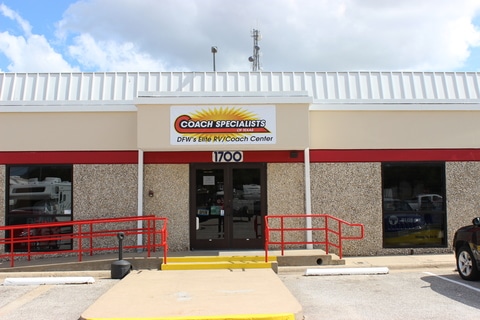 Drop your RV off at newly opened Plano location (formerly Allstar RV). Our Office is located adjacent to the former Allstar RV center storage lot (Note: Some Allstar RV signage still exists during this transition period).
1700 E Plano Parkway
Plano, TX 75074
Contact: 972-516-2222
Our RV Service Offerings To You
If you're looking for a full-service RV repair shop in the Plano Area with a solid reputation, look no further. Considered a leader in the RV repair industry, Coach Specialists offer a wide array of services from preventative maintenance to complex repairs involving blueprinting and reconstruction to OEM standards. We invest heavily in equipment, training and technology that allow us to manage repairs. Our mantra is to strive for offering the best service and level of excellence possible.
Regular preventative maintenance for your RV is the key to always keeping it running well. We provide: RV Mechanical Systems Repairs, RV AC Unit Repair, RV Refrigeration Repair, RV Hydraulic System Repair, RV Suspension Repairs
Don't let your RV look old and dull. Come to Coach Specialists for RV renovation in Plano, TX. We provide: Complete RV Kitchen Remodels, Complete RV Bathroom Remodels, Complete Paint Scheme Updates, RV Flooring Experts, LED Lighting Conversions
RV Collision Repairs in Plano
Don't waste any time after an accident; contact us for RV collision repair in Plano, TX.
We provide: Complete Collision Damage Repair, Delamination Repair, RV Hail Damage Repair, Sprinter Van Repair, RV Slideout repair
RV Roof Replacements in Plano
Your roof will take the biggest beating from the elements - this is what will cause it the most damage and ageing. Make sure to inspect your RV's roof annually to ensure there are no barriers to entry for water. We provide: RV Hail Damage Repair, RV Sealants Removal & Replacements, RV Water Leak Repairs, RV Roof Vinyl Replacement
RV Pick-up and Delivery in Plano
If you are unable to get your RV to us, don't fear. We offer a pick-up and delivery service in Plano, TX.
If you have any questions regarding your RV repair in Plano, TX or getting your RV in tip- top shape, give us a call at 817-842-1144 today!