So, you've had a bit of a fender bender, and now, you've ended up with a hole or dent in your Airstream's aluminum siding. Whether it is a small ding or a big bash, you should get it fixed as soon as possible. Not only are these damages an eyesore, but if left, rust and corrosion may occur, leading to an even bigger problem down the line. You can either take it in to be repaired or try to fix it yourself. 
If you're a natural at DIY, you'll need to know a couple of things and pick up some materials beforehand. Below, you'll find all you need to know about RV aluminum siding repair and aluminum siding replacement, plus a few tips to help you out.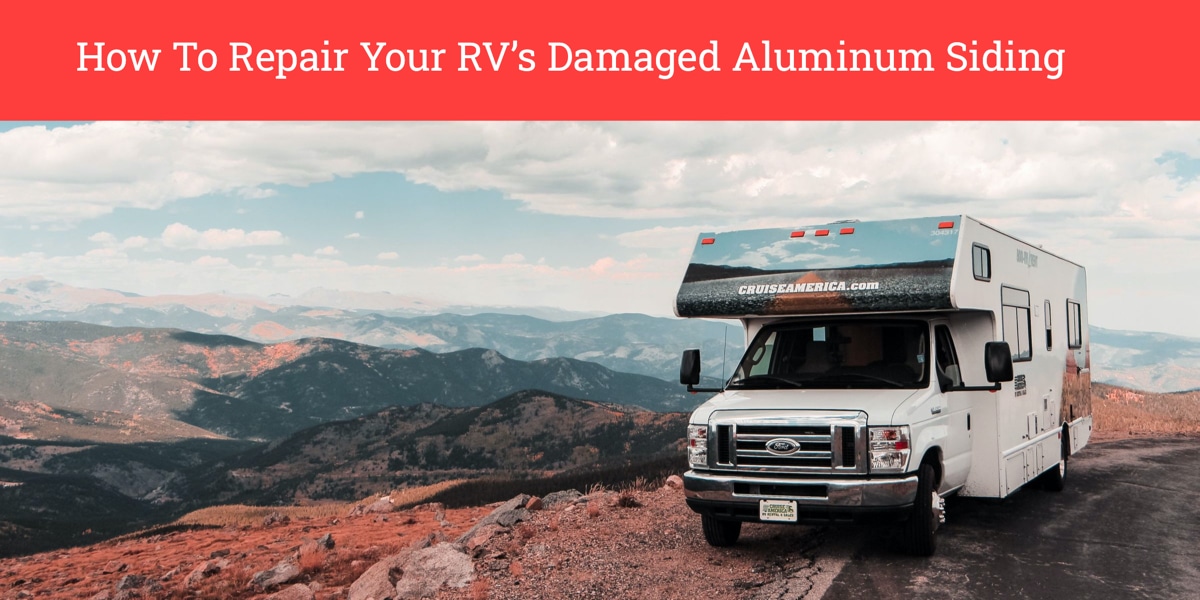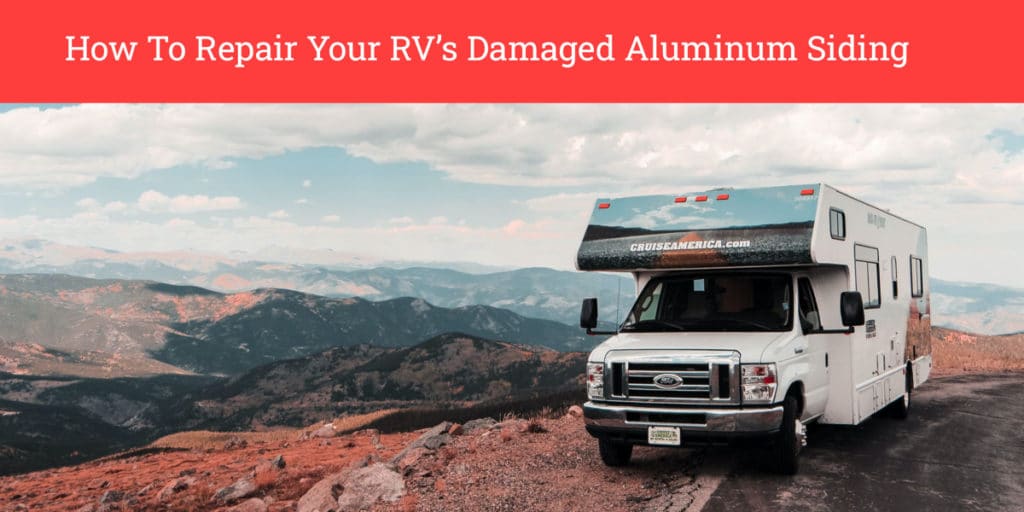 RV Siding Repair Top Takeaways
Before you replace the damaged aluminum siding, please take note of the following: 
Do plenty of research

: Before you kick off this fixer-upper project, be sure to do extensive research. Watch YouTube tutorials, chat with your friends in the know, or even call up your RV service and repair company for advice.

All about aluminum

: You'll need to get specific materials suitable for fixing your rig's aluminum siding. Whatever you do, it's best not to opt for cheaper alternatives here.

Follow directions

: For your own safety (and the safety of your RV!), make sure that you follow the manufacturer's instructions. Also, only use the recommended products and tools for the job.
Aluminum 101: How to Repair RV Siding
Typically, aluminum trailer siding sheets can be found in older recreational vehicles, and of course, Airstream trailers. While many love the vintage feel and classic look of this material, one negative is that the sheen makes dents and dings very noticeable. Luckily, small holes in aluminum siding don't require welding and a fairly easy patch job. You can create an aluminum siding patch by cutting a piece of aluminum sheet to fit over the damaged area. You can find these sheets and other aluminum siding repair parts in most hardware stores and some specialized RV parts shops.
For larger holes that affect an entire panel of aluminum siding, it's often easier to replace the sheet rather than attempt to fill in the holes. You can remove the screws from the existing siding and then pry off the sheet. Next, you'll need to take your new aluminum sheet and then trace and cut it to replace the damaged piece.
Repairing Camper Siding: How Do You Fix a Small Aluminum Hole?
Step 1

: Begin with a clean surface. Wipe it down and scrape off any paint or debris before you begin. Clean the area around the hole with a sponge soaked in warm water mixed with liquid detergent.

Step 2

: If the hole has parts or flaps of the aluminum around it, press them down to cover a part of the hole to minimize the damage. You can also remove them with tin snips or a similar tool.

Step 3

: Mix your epoxy according to the instructions. Use a putty knife to stir the mixture. Apply the epoxy mixture to the hole, trying to cover it as smoothly and as seamlessly as possible.

Step 4

: Leave the epoxy to dry and harden for at least one hour. Once dried, treat the damaged area and the nearby surrounding area with fine-grit sandpaper.
How to Remove Dents From Aluminum RV Siding
Getting a dent out of aluminum siding is often easier than repairing a hole. Still, you'll need to drill a hole in the siding to pop out the dent.
Step 1

: Screw the self-tapping screw into the center of the dent.

Step 2

: Use a pair of pliers to pull the dent halfway up. This will draw the screw up and pop out the indent.

Step 3

: Using sandpaper, take off all the paint.

Step 4

: Fill the dent with the two-part auto-body filler.

Step 5

: Use a putty knife to scrape the surface level with the siding.

Step 6

: Sand the patch to remove all roughness and paint it to match the siding. Leave to dry completely.
RV Siding Replacement: How Coach Specialists Can Help
If you don't feel up to handling your own RV siding repairs, Coach Specialists is happy to help. Our technicians have decades of experience and can perform any Airstream repair services that you may need. Here's why you can trust our team at Coach Specialists for all your collision repairs:
Repairs to Airstream trailers can require very particular and highly-trained technicians. Coach Specialists' staff are familiar with OEM standards and materials.

Our Airstream mechanics pay close attention to detail when handling raw aluminum RV siding panels, with the outcome looking like factory-new.

We take extra care to ensure there are no leaks and your finished product holds up to the original factory standards.

Airstream construction is very similar to aviation construction with aluminum structures and skins. 

These are assembled with rivets and a series of OEM fasteners, sealants and adhesives that we are very comfortable with.

Our technicians are trained specifically for recreational vehicles and have access to Airstream parts and the know-how to fix common Airstream issues.
Other Repairs That Coach Specialists Can Make
Along with collision repairs, we can also help with the following:
Electrical and Plumbing

: Keeping all of your systems in tip-top shape will provide you the level of comfort you expect when on the road.

Fabrication and Repair

: We can custom fabricate the panels and or structural components, matching them to your original panels.

Door and Window Repairs

: An Airstream's airplane-style windows can prove difficult to install and or replace yourself, so let us do the heavy lifting.

Awning and Steps

: While these may fall to the bottom of the priority list, your awnings and stairs are critical for your travel safety.

Interior Repairs and Updating

: We can assist you with everything from choosing fabric colors to interior finishes.
Whatever your RV needs, our trained team at Coach Specialists is experienced in handling any repairs!
Contact us today for all your Airstream repairs, RV services and RV repairs. Call  (817) 842-1144 or complete our online contact form here.