If you are out adventuring in your RV often or even just occasionally, the best way to keep it running smoothly and retain its value is by keeping up with a regular RV maintenance schedule. Routine checks on your home-on-wheels will ensure you won't be disappointed on a long trip and have to stop and find a mechanic to help with any issues instead of enjoying your holiday.
So, get out your owner's manual and see what RV maintenance you can do yourself, and be prepared to schedule an appointment for any necessary RV services with a certified RV technician for the big jobs.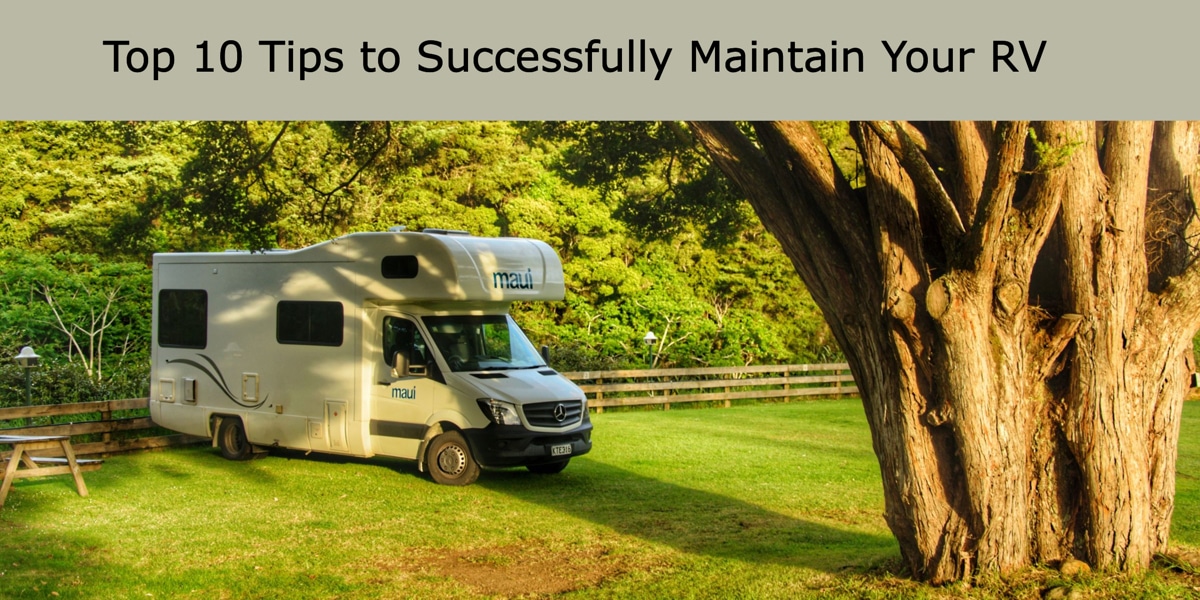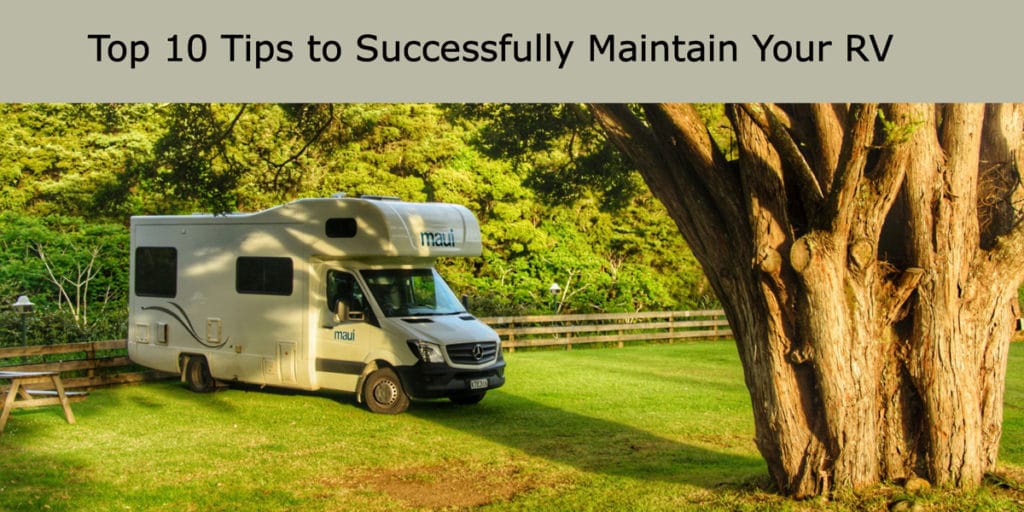 Let's take a look at the top 10 tips to maintain your RV successfully.
1. Check the Roof
Get into a good habit of doing regular checks on your RV's roof. It won't take long, but it will save you on any major future roof repairs. The reason it's good to do this regularly is that this is where water leaks occur. If you are checking the roof often, you will find where possible water is collecting before it can start to drip into the internal framework. With small leaks, you can patch up the roof with sealants that work with your specific RV's roofing material. For bigger issues, contact an RV specialist for assistance.
2. Check the Tires
Before you hit the road, make sure you check your RV's tires. There is nothing worse than being stranded on a lonely road with a burst tire. So, when you are not traveling, cover your RV tires with tire covers to guard them against damage. And don't forget the maintenance. Check the air pressure and adjust according to the weather. Rotate the wheels in order to reduce wear. Take your RV for tire realignment to avoid any serious road incidents. And make sure your spare tire is in good condition and always packed for your trip.
3. Check the Brakes
In terms of safety, maintenance of your RV's brakes is essential. Ensure the wheel bearings are maintained and lubricated throughout summer and that the brakes have enough material left on them so they are in good working order.
4. Checking the Batteries
You definitely don't want to be faced with a dead battery when out camping. Try and make sure your batteries are fully charged at all times, and remember that most batteries last 3-5 years. After that, they start to lose capacity, and you'll need to keep a close eye on them.
5. Check the Wastewater System
First up, check that you are using the correct chemicals for your system as well as adequate amounts of fluid to start the system after flushing. The system should also be flushed on a regular basis because build-up in your RV's water system can cause clogging and failure of the system.
6. Check the Lights
Keeping your lighting system in tip-top shape will ensure things don't go pitch-black in the middle of the evening. Make sure you also have a spare light when going on trips.
7. Check the Filters
You definitely don't want to face expensive overheating issues and increased fuel usage because of your filters' lack of maintenance. It's best to regularly replace the air, fuel, coolant, and hydraulic filters in your RV. This goes for oil filters too. Checking the engine's oil and replacing the oil filters will help keep your engine running properly. The recommended change is between 3,000 and 4,500 miles.
8. Check the Slide Outs and Seals
If you leave slide outs unchecked, you will face a lot of dirt build-up around the seals, causing problems with sealing your RV. It's best to lubricate the slider mechanisms to ensure they don't face too much wear and tear on the motors. It's also a good idea to lubricate the seals and keep them fresh and pliable.
9. Check the Awning
If you forget to keep an eye on your RV's awning, the chances are you will be facing mildew and mold build-up in no time. Also, checking for possible tears and debris caught in your awning will help avoid expensive repairs down the line.
10. Check the Connection to Your Tow Vehicle
This is another maintenance point that is critical to your safety on a trip. The connection between your RV and the tow vehicle is what transmits your electrical signal between the two, turning on the RV's brake lights and flickers. Also, this electrical connection, through the charge circuit, charges your RV's battery while you are driving.
If you find all this routine RV maintenance time-consuming and difficult, we suggest making an RV maintenance checklist that you can easily adhere to or bringing your RV in for a service at Coach Specialists. All tasks on your checklist should be completed before you think of starting on a trip. This way, you will enhance the lifespan of your RV.
It's essential to schedule your vehicle for RV repair services and RV maintenance before a long trip to be on the safe side. So give us a call when you're ready to hit the road. Coach Specialists are the exclusive direct RV repair services facility for many insurance companies, including GEICO,Statefarm and Progressive. We pride ourselves on excellent communication with our clients and fast, superior repair work.
Trust us to get your RV back looking shiny and new, into the brand new trailer of your dreams, or for any necessary RV services. Contact us for more information.