One of the first things to pop into one's mind when talking about an RV or camper is the outdated decor. Your mind immediately goes to wood paneling and lousy wallpaper choices. But with RV living and RV travel gaining popularity in recent years, the industry has seen a rise in RV sales and renovation, as new owners of second-hand RVs want to modernize the look of an old camper and make it their own.
If you don't have the available funds to buy new, don't be discouraged. It's not very difficult to renovate an old RV. The update will take some planning; get a sketchbook out, find some inspiration online, and start daydreaming. RV renovation can vary from completely gutting and building a bus or work vehicle into a camper. It can also involve remodeling a motorhome, keeping the basic layout the same but updating the appliances, colors, and cabinetry.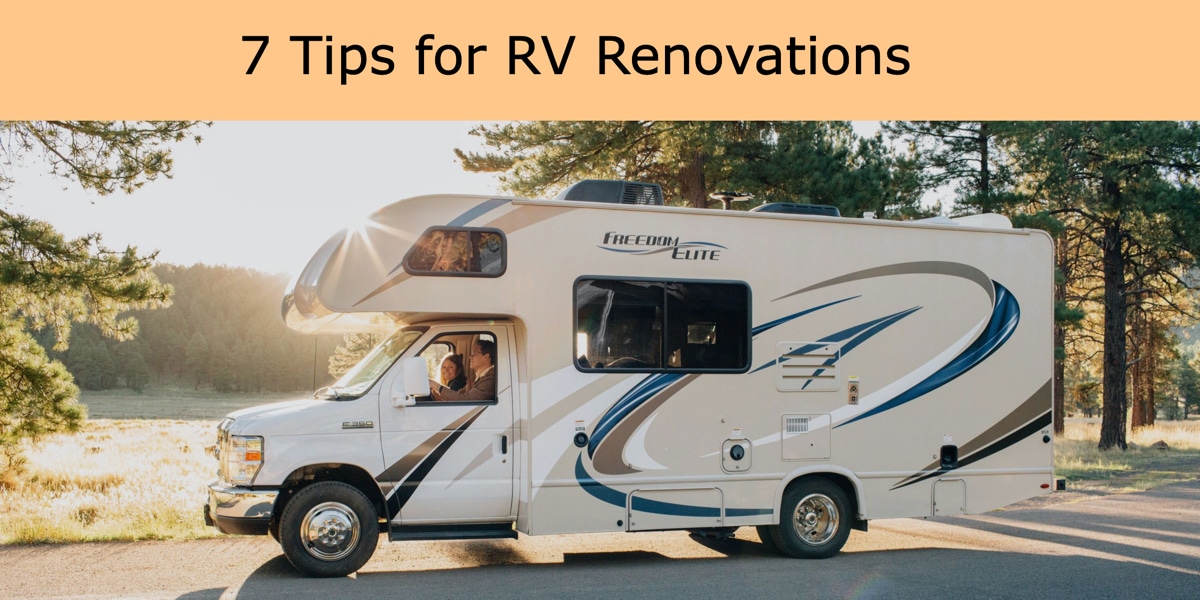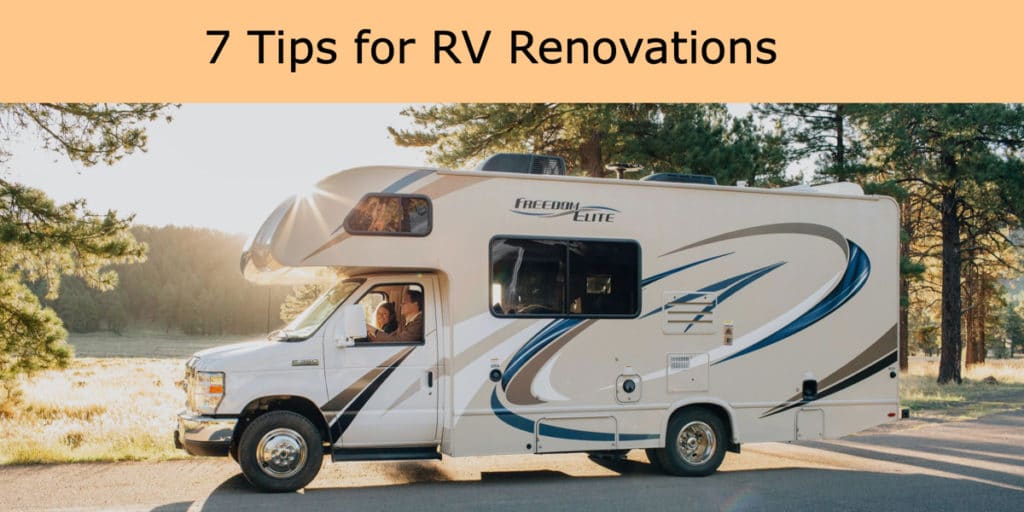 It may seem overwhelming at first, but there are some valuable tips for RV renovations that will get you excited about the process. Making an old, reliable camper look shiny and new is not as unmanageable as it may seem.
In this post, we look at seven tips to consider before starting your RV renovations.
1. It's All in the Prep
Start with a thorough clean of your camper. Once this is done, move on to preparing the areas you will be changing. Before painting or laying wallpaper, the surface will need some prep; cleaning, sanding, and scraping. And once this is done, you can start to apply the new coat to your camper's body.
Most old RV walls are made from a mix of particleboard, real wood, wallpaper, and peel-and-stick surfaces. Wood surfaces and particleboard can do with good sanding; this will be better for the primer to adhere to. Choose a shellac primer or good oil-based primer for the job. The wallpaper will need stripping, and a steamer will help with this. Mask around all small pieces you don't want to be painted.
2. The Right Paint for the Job
White is most often the paint color recommended for RVs, as it can make a small space feel much larger, but that doesn't mean you can't add splashes of color throughout your camper. You can add statement walls and colorful furnishings to bring some life into your RV.
Luckily with your prep already done, your surfaces are ready to paint. For laminate wood, choose oil-based paint that will attach better to the surface. If you have plastic pieces in your RV, spray paint will work best. It's a good idea to spray lots of light layers to avoid running paint.
3. Flooring
RV flooring replacement is a big job, but it will most definitely update the look and feel of your camper. If you have carpeting, it's time to change things up. Instead, add wood-look flooring for a more modern touch. Remember not to add too much weight to your RV flooring, so rather than real hardwood, consider laminate or click-and-lock floors for your camper.
4. Don't Forget to Measure, and Measure Again
Space is tight in a camper. We all know that, so make every inch count. It's essential to use your area as well as possible so measure more than once. Have an idea of options that will and won't work so that when you are at the store, you can envision what will work if you can't find the exact size.
5. Know the Voltage
Luckily, you can use any light fixtures for an RV, but it's vital to have the correct voltage, which is usually lower than standard bulbs. LED lights are a great idea, especially under hanging cabinets. They are also smaller, save energy, and look great.
6. Don't Forget About the Weight
Not only is it vital to consider the weight of any new fittings you add to your camper, but the weight also needs to be distributed evenly across the RV. When removing items, it's good to weigh them and replace them with lighter options, especially if you are adding more items.
7. Have Fun with Decor
New decor is one of the most straightforward ways to update the look of your camper.
• Furnishings: Change the window treatments and bedding, add wall hangings, lots of plants, throw pillows, and rugs.
• Furniture: Swap out old furniture if possible or recover as much as you can. From a new dinette to small couches, there are a lot of furniture options for small spaces.
• Backsplash: These are simple to install and can modernize your bathroom or kitchen's look. Peel-and-stick backsplashes are the best option for an RV as they are light. Remember to use heat-resistant options in the kitchen.
• The details: Change up the small details like cabinet handles, faucets, light switch covers, and light fixtures.
These are just a few ideas on how to customize and modernize your RV. The possibilities and ideas are endless; what you can do is up to your imagination and budget. Remember, research and planning are crucial to preparing for this challenging process. But it will be worth it to be able to travel in a space that inspires you and feels like your own.
How We Can Help
If you are unsure of how to start on your RV renovations, or if your camper perhaps needs repairs done before you can get to the fun decor stuff, consider contacting us at Coach Specialists. We will be able to help you with RV flooring, RV roof repair, and aluminum siding repair. We can also help you with a new purchase and set up a schedule for RV services and regular roof checks.
Coach Specialists pride ourselves on excellent communication with our clients and fast, superior RV roof replacement and RV roof repair work. For more about RV renovations and repairs contact us today!